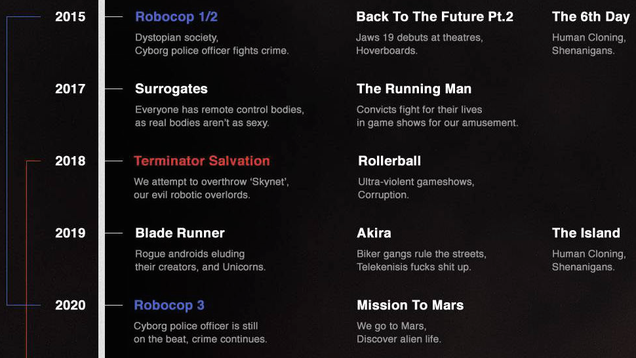 In an effort to make sure you never miss the latest releases, their limited collector's editions, or a chance to grab a deal on them, we've taken our first shot at creating a calendar of upcoming movie and TV releases. Like our Game Release Calendar, this is a big undertaking, and you can help everyone out by letting us know what we're missing in the comments.
We'll be updating this all the time, and setting up some kind of regular weekly or monthly heads up for you.
Header image is a chunk of this awesome infographic
July 29
Herzog: The Collection limited edition
Twin Peaks: The Entire Mystery
July 1
The Legend of Korra Book 2: Spirits
July 8
August 6
August 12
August 19
The Amazing Spider-Man 2 Collector's Edition [Amazon exclusive] | Also available in 3D and standard
August 26
The Walking Dead Season 4 Limited Edition | Blu-ray | Also available in standard edition
September 9
Godzilla Limited Edition MetalPak | Also available in standard
Captain America: The Winter Soldier | Available in Steelbook, 3D, and standard
Agents of S.H.I.E.L.D Season 1
September 16
Ghostbusters/Ghostbusters II Limited Edition 4K Giftset | Also available as standard 4k double pack and standalone
September 23
The Exorcist Complete Anthology
TBA
Transformers: Age of Extinction Limited Edition Gift Set with Collectible Statue
American Horror Story Season 3
---
This post is brought to you by the Commerce Team. We bring you the best deals every morning on Kinja Deals, and collaborate with you to find the best products on Kinja Co-Op. We operate independently of Editorial, and if you take advantage of a deal we recommend, we may get a small share of the sale. Connect with us on Twitter and Facebook. We read the comments, and we want your feedback.
Follow us for the best deals on the Internet, and check out http://t.co/w8ke7mw7nT

— Kinja Deals (@KinjaDeals) June 9, 2014
Get in touch with me on Twitter or by e-mailing Shane@Gawker

— Shane Roberts (@ShaneOSX) December 9, 2013